COVID has disrupted life in every corner of the globe. In order to minimize the chances of major disruptions to events and social gatherings, many of the venues used by Opera Idaho will be requiring face masks, regardless of vaccination status. As of Friday, August 13, 2021, venues include The Egyptian Theatre, The Morrison Center, and The Boise Philharmonic building.
To read The Morrison Center's guidelines, click here.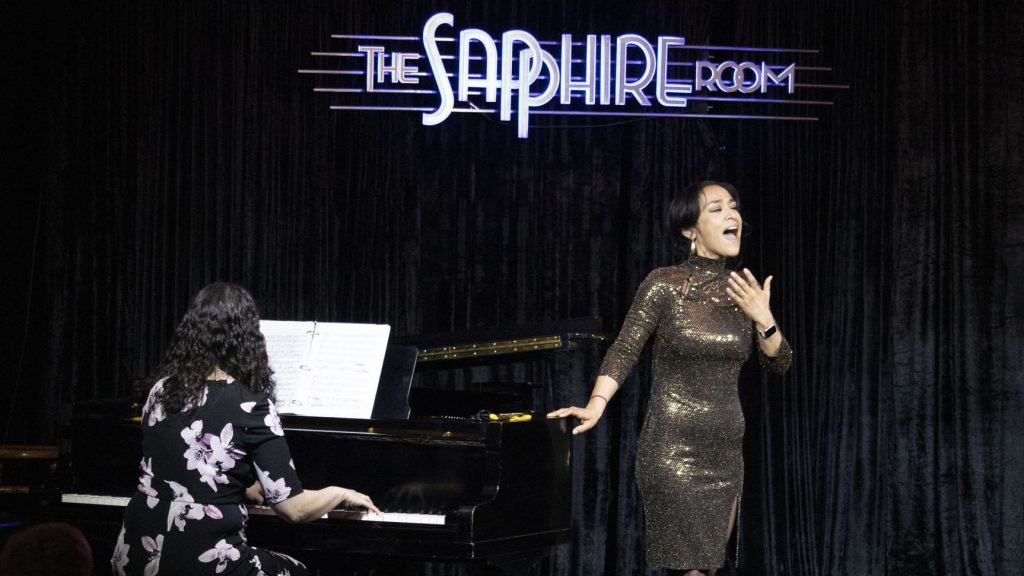 Operatini: The Merry Widow
Come enjoy a fun evening of music, food, and drinks! The ticket price includes dinner and the cast of our upcoming production of The Merry Widow performing some of their favorite musical theatre and opera selections.
Featuring: Cecilia Violetta López, Gabriel Preisser, Bridgette Gan, Andrew Bidlack, Jeffrey Seppala, and Jonathan Hill.
Dinner menu includes rosemary beef tri-tip, rustic red potato mash, mixed green salad, chef's choice of vegetables, rolls with butter, and a delicious tuxedo opera cake for dessert!! Beverages sold separately.
You'll also be able to enjoy the deliciously smooth cocktail: "Hannah's Choice." It is made with Absolut Citron, a straightforward and well-balanced lemon-flavored vodka; Frangelico, a delicious hazelnut liqueur distilled from hazelnuts grown in Piedmont, Italy; a house-made lavender syrup; and lemon juice. This mix of flavors create a convincing impression of a lavender-infused chocolate cake.
Thursday, September 23 • 5:30 pm & 8:15 pm
General: $28 per person
Preferred: $36 per person
plus tax & applicable fees
The Sapphire Room
in The Riverside Hotel
2900 W Chinden Blvd, Garden City
THE MERRY WIDOW
Lehár's charming, uplifting comedy The Merry Widow plays out in a stream of memorable melodies. It premiered in Vienna in 1905 and went onto a successful run of 483 performances. It has since been adapted and translated into several different languages and staged all over the world. It remains one of the best-known works in the operetta repertoire and helped the composer to become an international name.
Soprano Cecilia Violetta López returns to Boise as Hanna Glawari, the fabulously wealthy widow of the title in Lehár's beloved operetta, set in Paris and directed by Stage Director Robert Neu. Grammy Award winning baritone Gabriel Preisser is Danilo, Hanna's former flame, who is supposed to woo and marry her in order to keep her fortune in their home country of Pontevedro. Soprano Bridgette Gan sings Valencienne, the flirtatious young wife of the Pontevedrian ambassador in Paris, Baron Zeta, played by Boise State University's Assistant Professor of Voice and Director of Opera and Musical Theatre, bass-baritone Jeffrey Seppala; and tenor Andrew Bidlack is her suitor, Camille. Opera Colorado's Music Director Ari Pelto conducts the waltz-rich score.
Friday, October 8 • 7:30 pm
Saturday, October 9, 7:30 pm
Tickets: $27.50 – $83.75 + fees
Military, Senior, Child, Student and Group discounts available
The Morrison Center
2201 W Cesar Chavez Ln, Boise
Subscribe and Save!
Opera Idaho's 49th season will feature an exciting lineup of four mainstage operas and one add-on production including some familiar favorites and Opera Idaho premieres. By subscribing, not only are you guaranteed the best seats available for the entire season, but you also save nearly 25% over single tickets. 
Of course, our season would not be complete without Operatinis. This coming season will feature a total of six Operatinis at The Sapphire Room in The Riverside Hotel. Operatinis feature guest artists from upcoming productions as well as local artists singing some of your favorites from opera and musical theater. Come enjoy not only a great performance, but a delicious dinner and a specially designed martini. 
You may also subscribe by calling Merri at 208-345-3531 ext. 2. 
* Prices plus tax. Season subscribers receive a 20% discount on tickets and are not subject to service/handling fees; these two represent nearly 25% over purchasing single tickets.