Our 2021-2022 school tour features the abridged version of Rusalka: A Mermaid's Tale. Based on Dvořák's Rusalka, this 40-minute production was adapted and arranged by Jeffrey Sykes for Opera for the Young. Our Emerging Artists are visiting schools for the first time since the pandemic began. For many of these schools, this marks the first time they've had an in-person assembly and the faculty and students have been super excited to see a show in person!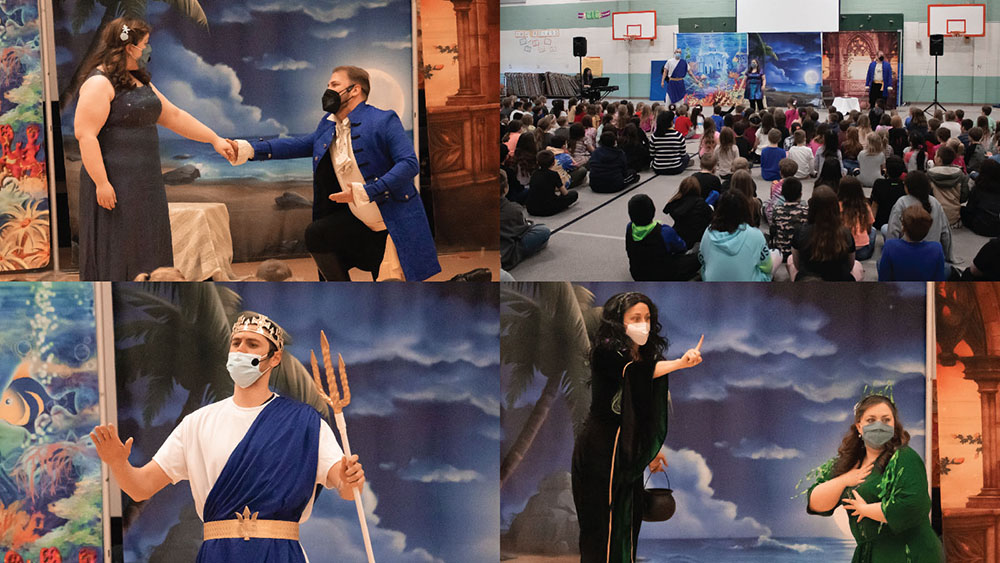 Last season we were unable to visit schools in person. We were still able to share our artform by recording and distributing digitally the show Who Wants To Be An Opera Star, created by Paula Fowler, Director of Education at Utah Opera, and Stage Director Patricia Weinmann. This production is an introduction to opera for students in Kindergarten through sixth grade featuring when and where opera was invented, how to recognize different voice types, and some terms used in opera. This fun 40-minute children's opera was available to school through May 31, 2021. We had many educators and students request the digital performance, and we were able to share opera with over 23,000 individuals.
education engagement program
In an effort to introduce our younger generations to the world of opera, for the past few years Opera Idaho has toured our local schools with a program geared towards students in grades K-6. The program started with Opera in a Box, an introduction to opera created by local soprano Tiffany Calás. Since then, we've upgraded to abridged operas rewritten for our target audience. We have toured the Treasure Valley and beyond with Humperdinck's Hansel & Gretel, Mozart's The Magic Flute, Massenet's Cinderella, Donizetti's The Elixir of Love, and more.
Education engagement Sponsors
This production is made possible thanks to the financial support from: