New Artistic Advisor: Cecilia Violetta López
As we enter the New Year, we welcome Cecilia Violetta López as Opera Idaho's first Artistic Advisor. Known to Opera Idaho audiences primarily through her appearances in operas over the last six-plus years, Cecilia takes on added responsibilities to advise and advocate for expanded repertoire, provide insights on diversity in artistic practices and community initiatives, and collaborate with senior management in identifying and securing financial support for the company. The position also solidifies performance possibilities into the future.
Cecilia will work closely with General Director Mark Junkert in helping shape the future of Opera Idaho. "When I think of someone, active in the field as a performer who both knows what's happening in the field nationally and internationally and knows our state, Cecilia is the perfect fit for the position," Mark says. "Many opera companies have similar positions, and it is a sign of Opera Idaho's growth that we're able at this point in our history to add an Artistic Advisor."
"Being a part of the Opera Idaho family as the Artistic Advisor is an incredible honor. Opera Idaho was the first professional opera company I auditioned for. It has played important part in my career's trajectory as Mr. Junkert has given me opportunities to sing roles that I wouldn't have been able to perform anywhere else. Opera Idaho supporters have seen me grow as a performer, a mother, a woman, and have been by my side rooting for me (along with my family who still lives in Rupert) with every accolade that I've received. I refer to Opera Idaho as my family because that's what Opera Idaho is to me: my family. As an Idahoan who started working in the fields in little Rupert and found her opera voice later on in life, this position feels like I have not only reached another milestone in my career, but it's like I made another full-circle moment for me; taking into account that day in August 2011 when I nervously walked into the Opera Idaho offices getting ready to audition for Mr. Junkert. In a way, I'm 'coming home.' It is truly humbling to be a part of the company that has supported me through so much. I couldn't be more thrilled, eager and hungry to give back to Opera Idaho and help find ways to make it thrive and continue to grow. 
"As in Opera Idaho's tag line 'it's the voices,' not only has the company shared my voice with the world in more ways than one; Opera Idaho has helped me find my own." – Cecilia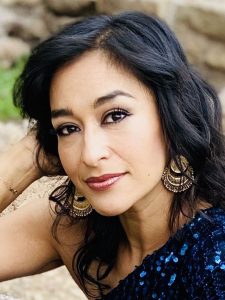 Cecilia Violetta López, soprano, made her Opera Idaho debut as Gilda in Rigoletto, 2014. With Opera Idaho she performed her signature role of Violetta in La Traviata, 2016; and debuted in the title role in Manon, 2019; Maria in West Side Story in Concert, 2018; and Adina in L'elisir d'amore, 2017.
Cecilia, a Mexican-American native of Rupert, Idaho, got her musical start at a young age singing mariachi music that she learned from her mother. She earned a Bachelor of Music degree (vocal performance) from the University of Nevada, Las Vegas in 2011. She has received accolades for her performances from The New York Times, The Washington Post, has been featured on NPR, Idaho Public Television, Univision and Telemundo, and many other news outlets across the country. She has become a voice for her art form and constantly shares the story of her Idahoan roots, humble upbringing, hard work and career's trajectory. She is now on the artist roster of the Metropolitan Opera, has sung at Carnegie Hall, she has an exhibit at the Idaho State Museum and an additional exhibit at the Minidoka County Historical Society Museum in her hometown of Rupert. Most recently, USA Today recently named Cecilia one of Idaho's Top 10 Most Influential Women of the Century. Cecilia is also the recipient of an Idaho State Concurrent Resolution honoring her life as an Idahoan and her work in the world of opera.
Opera News has named Cecilia Violetta López one of opera's "25 Rising Stars." The singing actress is constantly praised for her "alluring voice and incredible range" (Washington Times). She has received accolades for her signature role of Violetta in La traviata, which she has performed countless times throughout North America. Critic, James Jorden, exclaimed "she is a Violetta fully-formed and, I think, ready for the great stages of the world." She has now performed the role with Minnesota Opera, Opera Colorado, Opera Tampa, Ash Lawn Opera, and Virginia Opera. Cecilia made her European début as Norina in Don Pasquale with Zomeropera in Belgium, for which Klassiek Centraal exclaimed: "She turns out to be the revelation of the show and wins over the audience with her funny rendition, irresistible charm, and [she is] natural in the different vocals."
As of October 1, 2020
Leslie Garrett, President
Janny Wing, Vice-President
Thomas J. South, Treasurer
Vicki Kreimeyer, Secretary
Phoebe Boelter
Nicole Brown
Patty Hagedorn
Thomas J. Katsilometes
Lynne Mattison
Christopher H. Meyer
Carol Nie
Gizella O'Neil
Jed Reese
Laura C. Simic
Victoria Sunderland
Pamela Thomas
Tina Vorbeck
Mark Junkert, Ex-Officio
Effie Kaufman, Emeritus
Esther Simplot, Emeritus
Doug Zimmerman, Emeritus
Kay Hardy
Don Hendrickson
Christopher Huntley
Larry Leasure
Carol MacGregor, PhD
Rob Perez
Dan Popkey
Jeffrey L. Smith
Anita Weissberg
New Board Members in 2020
Nicole Brown is the Regional Director of Orthopedic, Pain Management and Rehabilitation Programs at Saint Alphonsus Health System. She is responsible for the implementation of growth strategies that support communities spanning Boise, Idaho to Baker City, Oregon. Her 20-year career in healthcare began in the health insurance industry, and later moved to supporting physician-owned medical groups before finally transitioning to hospital administration. She is the immediate past President of Idaho Medical Group Management Association. A Boise native, Nicole is married with two teenage children. The family enjoys a wide range of activities including winter skiing, hiking, and travel.
Patty Hagedorn grew up in New York. Her mother was a big fan of the arts. As a little girl, she used to take Patty to plays, musicals, ballets, museums, symphonies and operas. Patty moved away from NY in high school and moved to the Bay area where her love of the arts continued. In 1994 she moved to Boise and has been here every since. When asked to be on the board of Opera Idaho, Patty jumped at the chance to combine her love of the arts and the desire to volunteer for a nonprofit. She worked for DirecTV for 21 years before moving to Blue Cross of Idaho. She is the Director of Facilities where she handles all maintenance and construction for the company statewide. She looks forward to contributing as much as I can to Opera Idaho over the next few years.
Gizella O'Neil was born in Hungary and was introduced to opera when her father would walk around the house, singing all the great arias in his rich baritone voice. The family emigrated to America after the Hungarian revolution was defeated in 1956. Gizella continued attending and listening operas in all the big cities in America. She holds a B.A. in Theater Arts and a B.F.A in Art, Drawing and Painting. She enjoyed many different careers while raising her two daughters in California and moved, along with the girls, to Idaho 15 years ago. Currently she owns and runs a small private art school and continues her devotion opera in her capacity as a board member of Opera Idaho.
Jed Reese is the President and CEO of STRIVE Wealth & Protection Planning, LLC, which specializes in providing comprehensive financial solutions for businesses and individuals with an emphasis in corporate benefit plans and investment management. He began his wealth management career in 2010 after spending over a decade as an Operations and Quality Manager in the semiconductor and sports nutrition industries. Jed has established himself as a reputable, knowledgeable , and trusted professional within the business community and is a past board member of the Arid Club, Boise Metro Chamber Financial Services Industry Advisory Board, Western Pension & Benefits Council, and is currently serving on the West Boise YMCA Advisory Board. Jed was born and raised in the Treasure Valley, which is where he and his two sons reside. Jed is an avid athlete who currently enjoys running, cycling, playing golf, and Spartan racing.
Victoria Sunderland is British by birth and has lived in the USA for 25 years, moving to Boise two years ago. Victoria studied modern languages at Cambridge University, and worked in publishing. She retrained in medical technology later in life, and now works part time for St Alphonsus as a mammographer. She and her husband Richard have three grown-up children and enjoy exploring Idaho and beyond, visiting family in England, Wales and Spain, hiking, cooking and the performing arts.
Tina Vorbeck is a native of Boise and a lifelong City of Trees resident. She has a long history of voluntarism with amazing organizations including Childhood Cancer Services (Camp Rainbow Gold), Saint Alphonsus Festival of Trees, Junior League of Boise, Bronco Athletic Association (Boise State University) and The Arid Club. Tina works as a Program Manager leading nationally dispersed, cross-functional IT development teams in the EdTech vertical for a company based in Annapolis, MD focused on enhancing the remote learning experience for students in rural and underserved areas and those currently impacted by Covid-19 school restrictions. Tina and her husband Bob have one son, Mitch, and they all enjoy travel, Boise State football and basketball, concerts, and live theater. Tina is very excited to start her volunteer tenure with Opera Idaho in whatever capacity she is asked to serve.
Mark Junkert
General Director
mark@operaidaho.org
(208) 345.3531 ext 1
Mark joined Opera Idaho as Executive Director in 2008 and was named General Director in 2011. He came from New York City and Minneapolis/St. Paul, Minnesota. In St. Paul, he was Managing Director of Skylark Opera. Concurrently, he served as Executive Director of the Martina Arroyo Foundation, a New York-based organization dedicated to training young opera singers. A native of Minnesota, Mark studied voice and opera in the Graduate School of Music at the University of Illinois, Champaign-Urbana, studying with William Warfield. He received a bachelor's degree in vocal performance from the University of Denver. At Opera Idaho he has directed productions of Werther, Pagliacci, Hansel and Gretel and Amahl and the Night Visitors. He has served as a judge for the Metropolitan Opera National Council District Auditions in Pocatello and Spokane, as well as for the Sun Valley Opera Vocal Competition in Seattle. Mark has lectured extensively for The Osher Institute at Boise State University, the Boise City Department of Arts & History, various area clubs and libraries, and before Met –Live in HD broadcasts and every Opera Idaho opera. Last month Mark was awarded the 2020 Governor's Arts Award for Excellence in Arts Management.